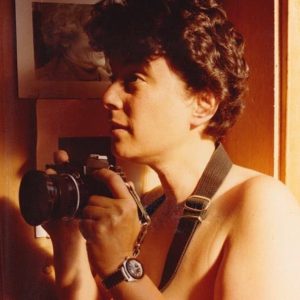 JEB (Joan E. Biren) is one of the contributors of photos to this archive. We thank her for her generosity. To learn more about her, check out this short video: "How Joan E. Biren Inspired a Movement by Photographing the Lesbian Community."
To see more of JEB's beautiful photographs, find her on Instagram @jebmedia.
Be sure to check the link in her Instagram bio for recorded video conversations with Alison Bechdel, Sarah Schulman and others, as well as reviews of her reissued first book, Eye to Eye: Portraits of Lesbians. It was published in 2021 by Anthology Editions and you can get it here.
JEB directed the film No Secret Anymore: The Times of Del Martin and Phyllis Lyon, which was selected as one of 11 Noteworthy Documentaries Celebrating LGBTQ+ women. It is available, along with her other films, here from Frameline.
JEB's work is archived in the Joan E. Biren Collection at Smith College.