Women's Music
is a phrase coined by lesbian feminist singer/guitarist Meg Christian in the early seventies.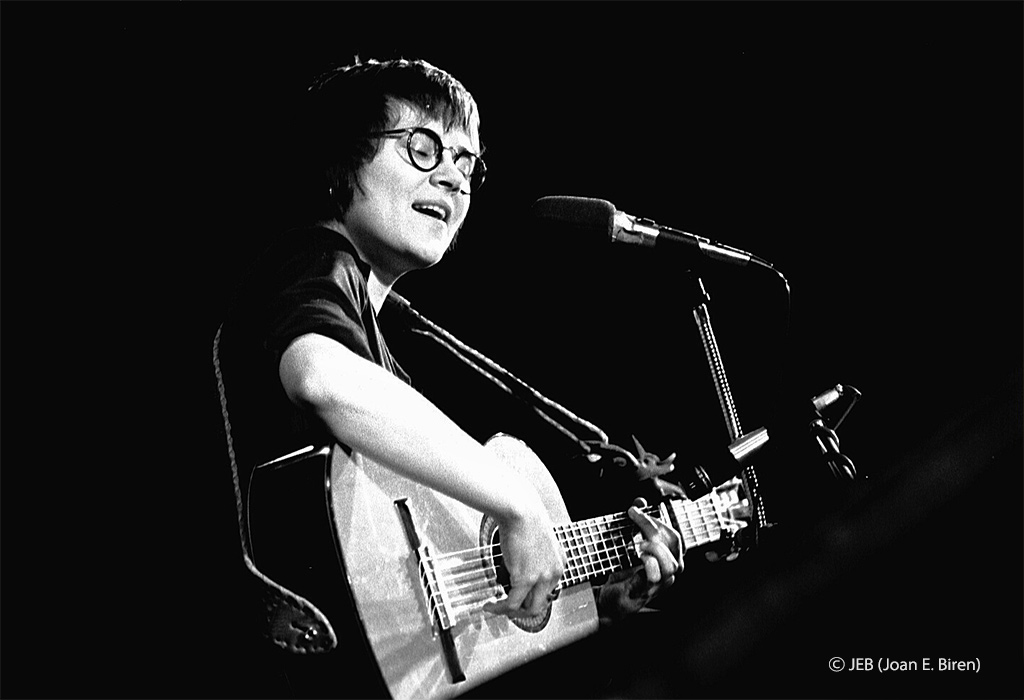 Every social change movement has a music. This flowering of Women's Music did not come simply as a search for lesbian romance and beautiful harmony, although that would have been reason enough. It exploded out of a deep-rooted need to combat homophobia and sexism and to build safe community. The performers reflected back to the audience women as real people—an honest, authentic expression of woman identification—how women saw themselves as feminists and lesbian feminists—something they had not been able to do in the mainstream music industry at that time.  
Women's music is Oakland.
And it is Bay Area.
From the tour Varied Voices of Black Women, 1978, reading Pat Parker's poem, Movement in Black. L-R: Pat Parker, Mary Watkins, Vicki Randle, Gwen Avery and Linda Tillery. Photo: JEB (Joan E Biren) Click here for content and audio from the 1978 tour (opens in a new window)
In conversation with Ginny Z. Berson, co-founder of Olivia Records, Ginny said, "Women's Music activists were refusing to be defined by men and insisted on defining themselves. This included designing space in which women artists were unrestricted and the audience could see themselves without fear of a system intent on forbidding this freedom of expression."
Women instrumentalists who had been the one female in all male bands or who couldn't get into those bands at all, started forming their own groups. Some were recovering from horrific treatment on the road as the only woman on the tour, constantly fending off unwanted sexual expectations. In the work with women, there may have been romance but it was not aggressive or demanding. There was a different dynamic at rehearsal; players seen and heard, ideas respected. Space opened up to investigate the female in style, rhythm, lyrics, volume, communication and process. Touring with a large ensemble was expensive, so many groups settled in to the Oakland music scene playing in the women's clubs and bars but also in the main music venues—booked because they filled the seats! More women were showing up, buying tickets and drinks—and dancing with each other. As women's music changed, so did Oakland.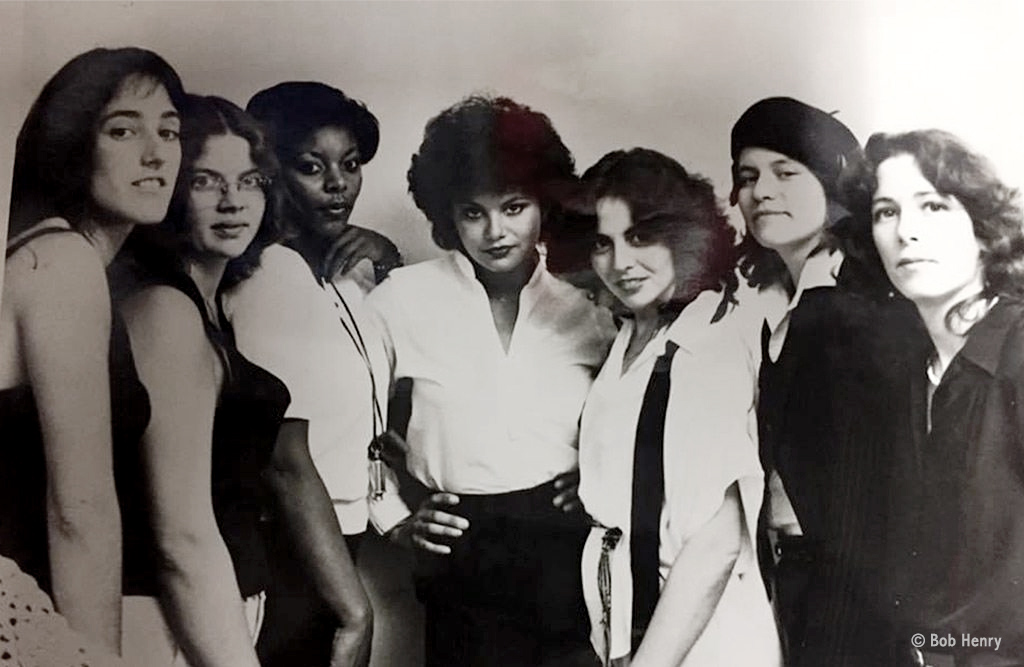 Latin Jazz ensemble Chevere, circa 1979.  Alicia Lo, Flute and Sax; Mary Burnley, Bass; Linda Harris, Congas; Patricia Thumas, Piano/Keys, Co-leader; Nelly Rubio, Vocals and Chekere; Annette Aguilar, Congas, Percussion, Co-leader; Bonnie Johnson, Drums, Percussion, Co-leader. 
In 2019, long before the idea of an archive had emerged, Holly Near (singer-songwriter, record producer, and curator of this site) interviewed 4 women who played an integral part in shaping the narrative of Women's Music on the west coast of the United States. She knew they had each walked through very different doors to arrive at their elder status in the world of Women's Music.
Linda.
Mary.
Carolyn.
Melanie.
Click the images above to explore full length interviews, short films and more.
To hear additional conversations with Women's Music icons, visit the Conversation Room.
There is a deep-rooted history of American Sign Language interpretation of Women's Music. For more information and historic context, visit the Because of a Sign page.

All conversations and short films created for this archive have been interpreted in American Sign Language and offer closed captioning.
Women-identified songs were ushered in by thousands of women across the nation and the world, often crossing boundaries and borders on cassettes to be shared in the privacy of a room, a van, a women's center.  And in a rather short period of time, these bold songs were sung at Carnegie Hall in concerts produced by the late Virginia Giordano.
Oakland, CA was its own little Paris with watering holes like the Brick Hut, Ollie's, A Woman's Place, and Mama Bear's. Why Oakland? Tess Hoover, a tax accountant who became one of the go-to lesbians for issues of money, taxes, and nonprofits said, "The music isn't necessarily why we came but it is why we stayed," making Oakland one of the most vibrant feminist, lesbian feminist and multi-cultural communities in the country.
Inspired by the first interviews,  Holly asked more women to meet with her in conversation to discuss Women's Music, racism, craft, heartbreak, sex, geography, disappointments, education, and revolution.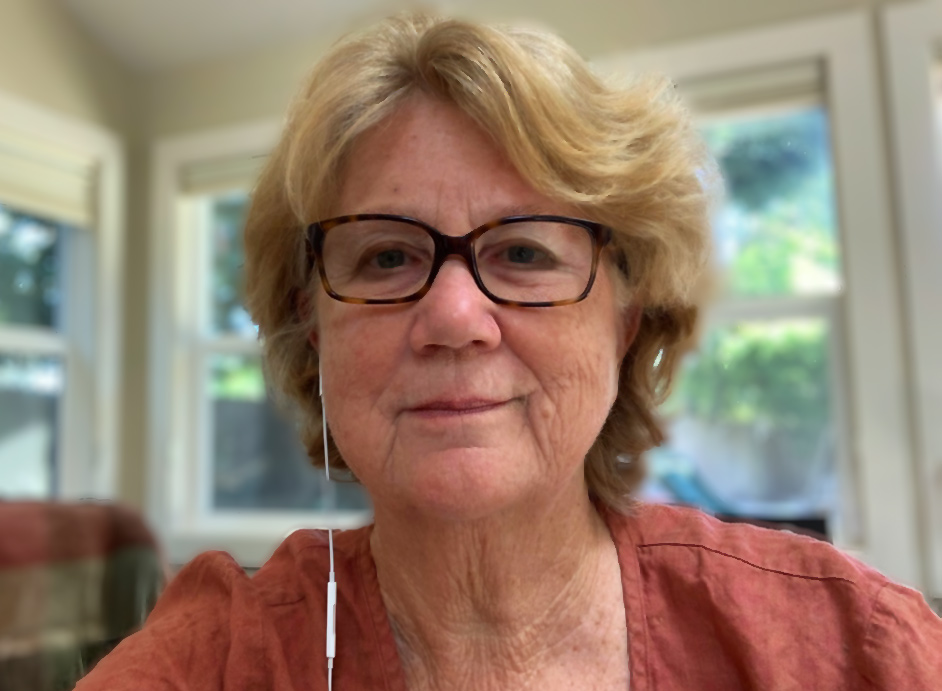 Holly Near in conversation – the interviews took place in person and on zoom between 2019-2021
Rhiannon
Vicki Randle
Judith Casselberry
Ginny Z. Berson
Krissy Keefer
Lakota Harden
Lichi Fuentes
June Millington and Ann Hackler
Angela Wellman
Elizabeth Seja Min
Barbara Higbie
Ellen Seeling and Jean Fineberg
Sally Roesch Wagner
Peggy Berryhill
Patricia Thumas
Crys Matthews and Heather Mae
Timothy Near
Candas Barnes
Conversations with these iconic artists are in the Conversation Room,  with music and more that branch out beyond Oakland  in the Listening Room and a Reading Room. But before you go, enjoy this moving photo gallery of over 190 photographs compiled by Tess Hoover celebrating the Women's Music scene that burst forth and continues for these last 50 years in Northern California.
* Click the images to enlarge and view captions and credits. *
A Note About This Gallery
from Tess Hoover
When I started to gather photos to put together this gallery, I  was struck by the eagerness of women to be included and their gratitude that such an archival project was in the works.  Many  wanted me to know about women I might have missed. Their generosity of spirit was not unlike what I encountered when I moved to Oakland 45 years ago. We built a community because we needed one.  We needed to find homes and a way to make a living.  In the era before the internet and cell phones, we relied on the local co-op bulletin board, A Woman's Place bookstore, and breakfast at the Brick Hut to keep us up-to-date.  We started a Woman's Yellow Pages where we advertised our skills, trading and bartering in our own underground economy.  All the while, Women's Music fueled our collective efforts and lifted our spirits. It told our stories and celebrated our lives the way that we were choosing to live them with each other.
As I collected the photos, women told me their own stories of starting music groups, finding players, learning skills to perform on stage, making recordings, and establishing a way to make music their primary focus. What was especially gratifying to me was the respect and love they showed for each other. Sisterhood is powerful!