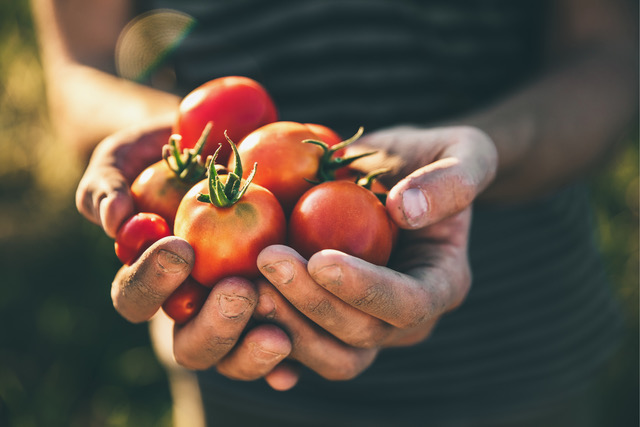 The food and farming landscape in this country, like all other systems, was built on systems of slavery, indenture, and land seizure. It has been designed to rely upon the exploitation of Black, Indigenous, and People of Color. The pattern continues today, with Black farmers still routinely excluded from and discriminated against by USDA loan programs.
Food sovereignty as a concept stresses redistribution of power, gives us cause to seek and share land, and motivates us to push policy initiatives on every level. How we relate to the land and each other is central to the environmental movement and to our survival as a species.
Curated by Natalia Zukerman
Black/Land Project
Mission
Black/Land gathers and analyzes stories about the relationship between black people, land and place.
We identify and amplify conversations happening inside Black communities (including African-Americans, Caribbean-Americans and African immigrants) about the relationship between Black people, land, and place in order to share their powerful traditions of resourcefulness, resilience and regeneration.
Northeast Farmers of Color Land Trust
Mission
The Northeast Farmers of Color Land Trust (NEFOC LT) is a hybrid model land trust, bringing together a community land trust model and a conservation land trust model to reimagine land access as well as conservation and stewardship of communities and ecosystems with the goal of manifesting a community vision that uplifts global Indigenous, Black, and POC relationships with land, skills, and lifeways.
Black Visions
Mission
Believing in the inherent worth of all Black people, Black Visions co-creates spaces that conjure possibilities of change and growth, deepen our practices of resilience, and move toward greater integrity.
We organize to shape decisions for ourselves, our communities, and the world. We do this by building visionary, strategic, and sustainable movements led by Black Queer and Trans folks that can hold all of us. We know that Blackness is expansive and our work must reflect this clarity. To honor this knowing, we strive to build relationships within abundant ecosystems and across movements that address the diverse needs and futures of all Black people.
The Institute of Queer Ecology
Mission
The Institute of Queer Ecology (IQECO) is a collaborative organism looking to find and create alternatives. The solutions to environmental degradation are found on the periphery and we seek to bring them to the forefront of public consciousness. Guided by queer and feminist theory and decolonial thinking, we work to undo dangerously destructive human-centric hierarchies—or even flip them—to look at the critical importance of things happening invisibly; underground and out of sight. 
We seek to democratize the production and reception of artistic research so that marginalized voices are given the space to tell their own stories, and audiences that have been historically excluded from institutions are invited into this one. We pass as an Institute as a means of infiltration: mimicking the academic model to support subversive ideas. 
Our mission is to make space for collectively imagining an equitable, multispecies future. With interdisciplinary programming that oscillates between curating exhibitions and directly producing artworks/projects, the Institute of Queer Ecology enacts utopia with a goal towards building a future that prioritizes a (bio)diverse world. 
Environmental Graphiti
Mission
Environmental Graphiti is devoted to the mission of using contemporary art to raise awareness of the facts and science of climate change. The art consists of over 75 digital paintings and several videos. Each digital image is derived from a chart graph, map, word or number relating to key facts or data about climate change.
Labor Network for Sustainability
Mission
It is the mission of the Labor Network for Sustainability to be the organized voice within the labor movement for policies that are ecologically sustainable while also advancing the movement for good jobs and a just transition for workers and communities hurt by the effects of climate change and by the transition to renewable energy.
https://www.labor4sustainability.org
Keepers of the Waters
Mission
Keepers of the Waters is a nonprofit organization that encourages art, science and community projects for the understanding and remediation of living water systems. It serves as an international network for people engaged in projects that transform our relationship to water.
BOOKS, MAGAZINES AND OTHER RESOURCES
One Billion Rising
Mission
One Billion Rising is the biggest mass action to end violence against women (cisgender, transgender, and those who hold fluid identities that are subject to gender-based violence) in human history. The campaign, which launched on Valentine's Day 2012, began as a call to action based on the staggering statistic that 1 in 3 women on the planet will be beaten or raped during her lifetime. With the world population at 7 billion, this adds up to more than ONE BILLION WOMEN AND GIRLS.