Short Film by The Understory, Maya Pisciotto & Fabián Aguirre
Linda Tillery
has been an influential force in the northern California music scene bringing her talent to vocal styling, arranging, music production, and ethnomusicology. Born and raised in San Francisco, she grew up listening to jazz and blues but her entry into performing in the Bay Area was in 1968 with the psychedelic soul group, The Loading Zone.  Other opportunities followed, with Linda working as a session musician, singing and occasionally playing drums with Santana, Boz Scaggs, Huey Lewis and the News, and the Turtle Island String Quartet.
"What I've realized is that embracing the musical culture of other women is as important to me as embracing my ethnic culture."
In 1975,
Linda began working with the lesbian feminist collective and record label Olivia Records, producing, writing, and performing music that brought a soul and R&B sound to the label.  Songs like Tillery's rendition of "Don't Pray for Me" and "Freedom Time," both collaborations with Mary Watkins, challenged homophobia head on and addressed feminism, racism, peace, and justice.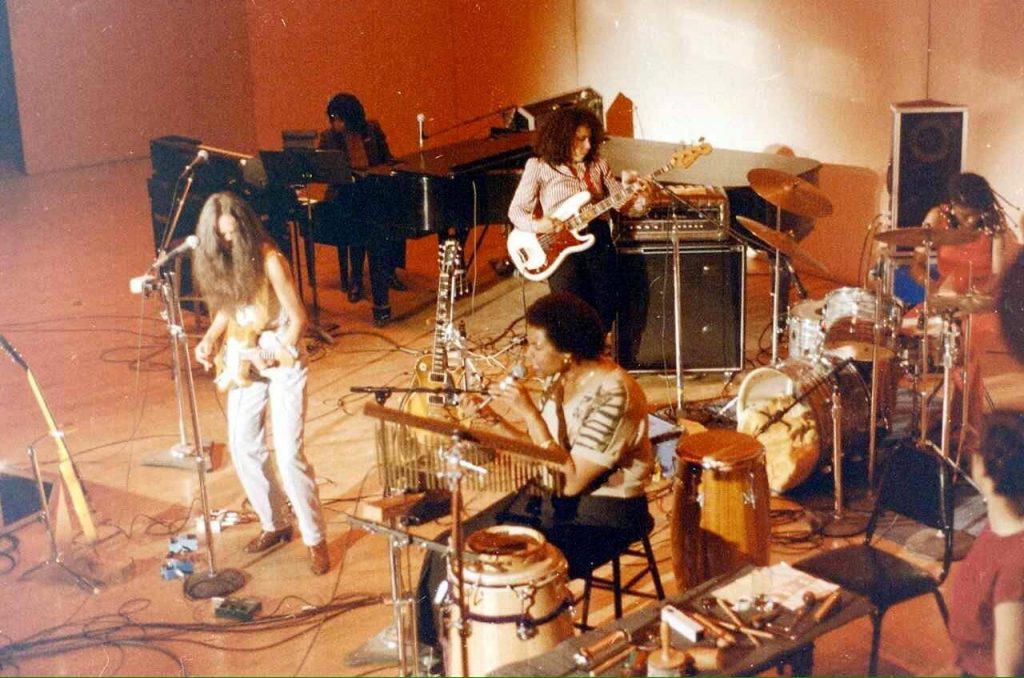 Band Rehearsal: Linda Tillery on percussion and vocals, June Millington on guitar, Mary Watkins on piano, Vicki Randle on bass, Bernice Brooks on drums. Photo: Rixanne Wehren
In 1978,
Olivia Records partnered with Roadwork—a multiracial coalition founded by Bernice Johnson Reagon and Amy Horowitz—to present Varied Voices of Black Women. This national tour, which included Linda Tillery, Mary Watkins, Gwen Avery, Vicki Randle, and poet Pat Parker, was a ground-breaking celebration of African-American lesbian feminist identity and culture. In addition to being a spectacular show, it served to challenge the white women's narrow definition of women's music.
The early 1990's marked the beginning of Linda Tillery's exploration of the music of enslaved African people and the African diaspora.
In 1992,
she formed the Cultural Heritage Choir with the mission of sharing the vitality of black American roots music, drawing inspiration not only from the deep South, but also from West Africa and the Caribbean.  The Grammy-nominated group toured all over the world inviting vocal collaborations with a capella singing groups wherever they traveled. Once again, Linda provided a bridge between nations, cultures, and diverse communities.
"Hammer Ring": Traditional Prison Worksong adapted and arranged by Linda Tillery. © Tuizer Music
Elizabeth Seja Min on the beginnings of the CHC
​​Linda Tillery came to me as a friend with a CD of Kathleen Battle singing spirituals. I was transitioning from directing the Oakland Youth Chorus to becoming the artistic director of Redwood Record's nonprofit, Redwood Cultural Work. Linda knew that I had delved into this repertoire to some degree with OYC and she loved that chorus.  
Read More
From this I came up with the idea for New Spirituals Project at Redwood, secured funding for commissions, and hired Linda as partner. The idea was that she would program the first half of the concert with the repertoire she was researching and assemble the singers. Then the second half would be the commission premiere and we would form a "house choir" with former OYC singers with me conducting and Linda doing the solo. I believe somewhere in there the idea of Cultural Heritage Choir was born—an ensemble that would focus on work songs, play songs, congregational singing, spirituals, moans, and hollers.
The New Spirituals Project went on for several years. Redwood Cultural Work raised the money and awarded four commissions: to Mary Watkins, Ysaye Barnwell,  Bernice Johnson Reagon and Jackeline Rago. My part was working with the composers, contracting and rehearsing the choir, and presenting the commission premieres.
Catherine Roma, founder of ANNA Crusis Women's Choir in Philadelphia, and later, director of MUSE Women's Chorus in Cincinnati Ohio, organized the second performance of each premiere, bringing the artists to Ohio.
-Elizabeth Seja-Min
In 1997,
the Cultural Heritage Choir was nominated for a Grammy Award for Best Musical Album for Children. This is yet another example of Linda's extraordinary ability to present high quality music in all kinds of styles with power and grace, always in an historic context.
A conversation with Linda Tillery and Holly Near
Filmed on location at the Freight & Salvage in Berkeley, California, 2019
Rhiannon – Reflecting on her work with Linda, 2019
*We are aware of the sound problems. Movement and clothing challenged Rhiannon's mic. However we liked the interview so much we wanted to include it anyway.
Ray Obiedo – Reflecting on his work with Linda, 2019